More Programmes
Empower the girl child programme
The girl child programme is a national programme developed by Child Welfare South Africa. It is a therapeutic group work programme for young women with a focus on empowering them towards successful enterprise development. The programme is currently rolled out in 5 schools in the White River and Sabie areas, involving 140 young women. More schools will be targeted as funds become available.
Child headed households
As a result of HIV and AIDS, child headed households are a growing phenomenon in our communities. In terms of the Children's Act, a child 16 years and older may head a household under the support and guidance of a designated adult. Child Welfare SA White River is currently providing direct material assistance and support to 12 child headed households in White River, Sabie and Graskop, reaching 49 children.
Holiday programmes
A holiday programme is conducted during every June/July school holiday in conjunction with Petra Mountain College, involving 800 children. The children are constructively occupied by a full programme and are provided with a meal. The programme includes life skills training, sport development, etc.
Employee assistance programme
Child Welfare SA White River is providing employee assistance programmes to 10 industries in the White River and surrounding communities, reaching 450 employees. The industries are visited by our social workers and social auxiliary workers on a monthly basis where employees are educated on issues such as domestic violence, TB, child abuse, neglect and exploitation, HIV and AIDS, etc. Individual cases are referred to our social workers for intervention.
Social work placement programme
Social work, especially in the field of child protection, remains a scarce skill in South Africa. In an effort to address this critical skills shortage, Child Welfare SA White River provides internship opportunities to 8 social work and social auxiliary work students at any given time. With the assistance of Jobs Fund, Child Welfare SA White River will accommodate an additional 10 students as from 2013. The students are closely supervised by Child Welfare SA White River social workers. Many of these students are successful in finding employment in Mpumalanga after completing their studies. Child Welfare SA White River recently had two post-graduate students from the United States of America as part of their community development internship. We hope to reach a formal agreement with the University of Illinois to receive more of their students in the near future.
Awareness campaigns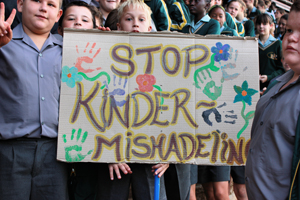 Child Welfare SA White River is continuously involved in awareness campaigns to sensitize children and communities with regards to children's rights and child protection issues. Many of these awareness campaigns are focussed on national and international days such as child protection week, 16 days of activism of non-violence against women and children, World AIDS Day, World TB Day, international day against substance abuse, heritage day, etc. Emphasis is placed on child trafficking as Mpumalanga is bordering Mozambique and Swaziland.
Advocacy and lobbying
Advocacy and lobbying for the rights and protection of children is a key component of Child Welfare SA White River. This is mainly done through regular radio talks, newspaper articles, the Child Welfare SA website and the social media. Child Welfare SA White River is actively involved in various child protection structures and forums in Mpumalanga, with the aim of coordinating effective and efficient services to our vulnerable children.